The Book Fair visited our Library from Monday 23rd November to Thursday 26th November. All the Children bought loads of books and our Library will now get a selection of new books. Thank you so much to all the parents who supported this yearly event.
Ms. Walsh and the 1st class were learning about healthy eating and different fruits and vegetables. They sowed seeds with the people from GIY (Grow it yourself). They will visit the GIY headquarters and pick various fruits and vegetables and learn some great ways to cook them. Have a look at their video! www.youtube.com/watch?v=REJqueSrC_A
Wednesday 30th September the Army arrived to present our school with the Irish flag and the proclamation. Mrs. Carroll met them at the gate where the children from 1st to 4th class greeted them waving their own handmade Irish flags.
They presented the flag and the proclamation to two pupils from 1st class: Hope Halligan and Isabel Ryan in front of all our 5th and 6th class students. Alex Foley read a passage from the class novel - Guns of Easter. Abbie Walsh read a passage from the proclamation. It was a great occasion in our school.
The Irish Guide Dogs visited our ASD unit.
The Irish Guide Dogs visited us today the 13th Oct 2015. We were all very excited to meet the two beautiful dogs.
This year St. Saviour's National School are working towards achieving an Active Flag. The school must make a big effort to promote exercise. Our Active School committee are Thomas, Michael, Chantelle, Moya, Jamie, Adam, Shea, Candice, Tommy, Rebecca, Mimi and Marvellous, Mrs. Carroll and Mr. Partridge. James and Caroline are the parent representatives. Some of the activities that have been happening are:
Walk a mile with a smile- a walk with Infants and their parents.
The Operation Transformation walk in Kilbarry Nature Park.
Exercise before school
WOW- Walk on Wednesday
Gymnastics
Hip Hop Dancing
Yard Games
Teacher versus 6th Class soccer match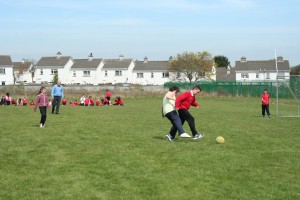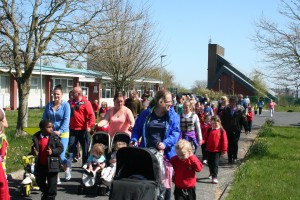 St Saviours Sports Day was a fantastic success this year. The children were busy all day long thoroughly enjoyed themselves. Thanks to everyone for making it such a enjoyable day
There is a huge array of activities going on. Don't be surprised if you see a few Harry Potters around the place!
We made Waterford's largest Bookworm.
We had quizes about our favourite books.
We dressed up as our favourite characters from our favourite books.
We visited our school library to listen to stories.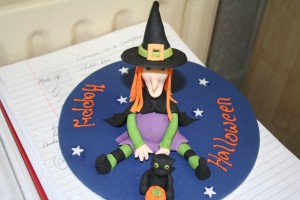 The Parent's room is a hive of activity on Wednesday mornings with cake decorating classes for parents. The parents had the opportunity to make some beautiful Halloween witches from fondant icing and some very scary cupcakes. The classes are being run by Catherine Hartery from Edible Dreams. If you are interested please call to reception or telephone Mr. O' Sullivan the HSCL teacher at 086-2715794.
To encourage puntualty the children will each get a raffle ticket if they are standing in their line at 8;50 am.They will be entered into a raffle for prizes at the end of the month.
The Early Start programme is the only Department of Education and primary school teacher led programme in the South East. The aim of the programme is to ensure children get the best start in the primary school system. The programme is staffed by a fully qualified primary school teacher and a fully qualified childcare worker. There is two sessions daily one staring at 8.50am - 11.30am, and the second session starting at 12 noon - 2.30pm. Class size is 15 in each session. There is a strong focus on pre reading and pre writing activities. The Aistear programme is implemented in Early Start. Early Start recognises that parents are the primary educators of their child and they are welcomed for workshops and activities throughout the year. We have a safe and stimulating outdoor area which ensures the children have the opportunity to play in the natural environment. The school boasts a state of the art library with a designated junior room and librarian, a multi-sensory room and 2 large indoor recreation areas. Some of the daily activities in Early Start include stories, water play, sand play, turn taking games, dress up role play activities, construction activities and games that will develop hand eye coordination and gross and fine motor skills. We are located in St. Saviour's N.S. in the Ballybeg area. We are a co-educational primary school. Please feel free to call in and meet our staff and see our facilities.
In June this year we were awarded our fifth Green Flag- "Biodiversity". The children have worked very hard in class around the theme "Biodiversity". They planted some wonderful raised beds to encourage wildlife into our school grounds. They built a bug hotel by the entrance to the school. The infants went on a very exciting 'welly walk' which was enjoyed by all! They also created a fabulous mural made solely of leaves. Thank you to our Green School committee, the local groups that helped with these activities and of course Mrs. Wilson who worked very hard to coordinate this project.