Some of the Parents and Grandparents have come in to help Ms. Murphy's 4th Class to Knit.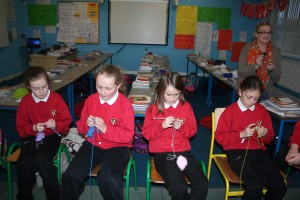 The Home School Community Liaison page is where we hope to keep you informed of some of the initiatives we're currently undertaking in St Saviour's. Courses for Parents/Guardians/Grandparents 2016/2017 include beauty and make up, cookery, flower arranging and yoga. If you wish to attend any of these courses please call to see Mr. Brian Partridge or call 089-4091226
The Parent's room is a hive of activity on Wednesday mornings with cake decorating classes for parents. The parents had the opportunity to make some beautiful Halloween witches from fondant icing and some very scary cupcakes. The classes are being run by Catherine Hartery from Edible Dreams. If you are interested please call to reception or telephone Mr. O' Sullivan the HSCL teacher at...
read more